Control your airflow
2 Auto Protect modes react to particles & VOCs.

Track your air quality
New expanded air history stats allow you to understand your air quality over previous days or weeks.

PECO-HEPA captures & destroys pollutants
Advanced protection captures small particles with 99.97% efficiency and destroys organic pollutants.

Expansive coverage
Air Pro protects up to 1000 sq ft of living or workspace.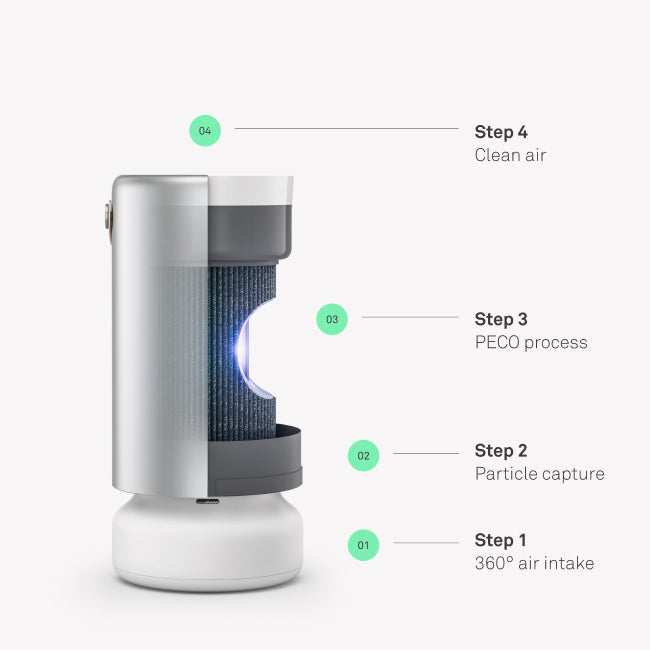 The path to clean air
1. 360° air intake
Air Pro takes in surroundings from every angle
2. Particle capture
Air flows through the outer filter layers, trapping large particles, and slowing down chemicals passing through the filter.
3. PECO process
Purification at it's best. The nanocatalyst-coated filter layers react to light, destroying pollutants and leaving behind clean air.
4. Clean air
Air Pro disperses clean air into the room.
Connect to the Molekule app
Stay informed of your air quality with daily and weekly air history stats, going back as far as the previous 4 weeks. See changes to six different air quality factors in five-minute increments, or swipe back in time to see changes to individual pollutant types throughout the course of your day or week.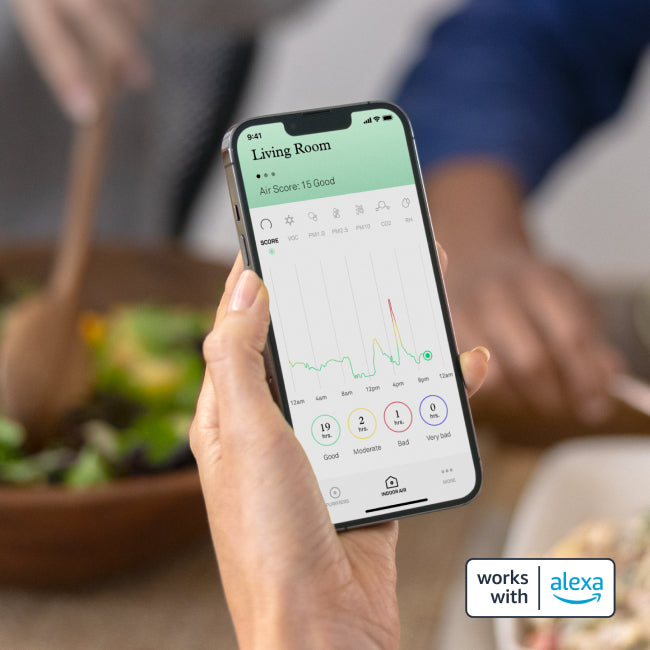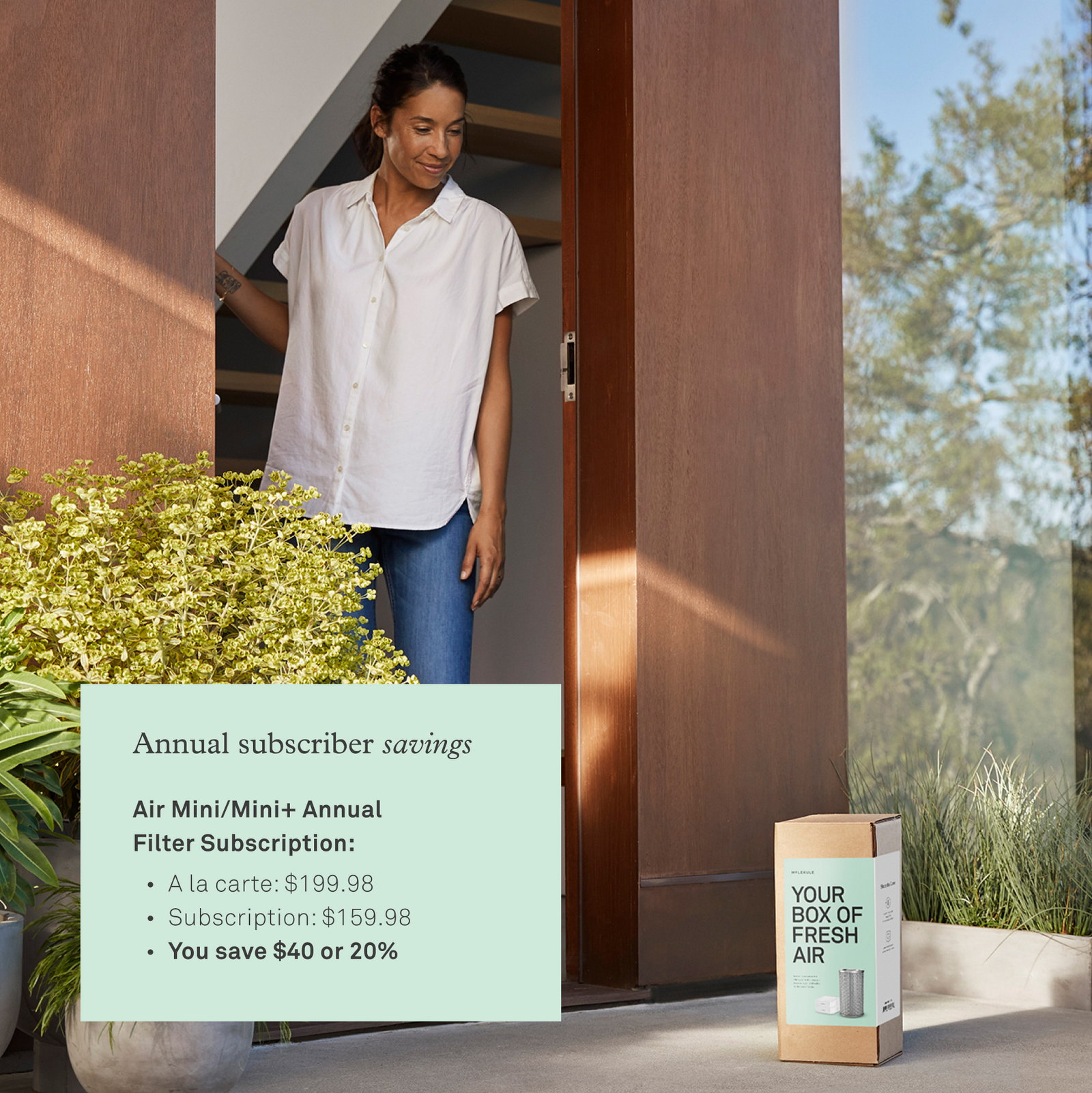 Automatic filter refills
Set it and forget it with automatic filter replacements shipped to your door, exactly when you need them.
✔️ Save 20% on each filter
✔️ No commitment, cancel any time.
✔️ Zero risk. 100% free returns.
Get the FAQs on Molekule air purifiers
The right purifer can make all the difference. Here are some questions you may be asking yourself.
The Molekule Air Pro and Air Mini+ differ in their room coverage and overall size. The much larger Air Pro has a higher air flow rate and is designed to improve indoor air quality in larger rooms up to 1,000 square feet. TMeanwhile, the Air Mini+ is made for smaller rooms up to 250 square feet. Both products also have differences in mobility. The Air Pro has a built-in handle and caster wheels for easy maneuvering, while the Air Mini+ is more compact and portable for travel or use in smaller spaces. Choosing the right air purifier starts with identifying your needs and preferences.

The Molekule Air Pro is designed to eliminate a wide range of airborne pollutants, including particulate matter (PM), volatile organic compounds (VOCs), and harmful microorganisms such as bacteria, viruses, and mold. Particulate matter can include dust, pollen, and other small airborne particles that can cause respiratory problems. A variety of sources, such as household cleaning products, building materials, and furniture, emit gasses known as VOCs that can cause headaches, nausea, and other health issues.  Microorganisms such as bacteria, viruses, and mold can lead to illness and other health problems.

The, the Molekule Air Pro can remove common airborne allergens such as pollen, dust mites, pet dander, and mold spores from the air to help with allergies. It uses a combination of PECO and HEPA filtration technology to capture and destroy these particles at a molecular level, providing relief from allergy symptoms. In fact, PECO technology has been independently tested and shown to capture 95% of airborne allergens, making it an effective solution for allergy sufferers.

Yes, the PECO-HEPA filter in the Air Pro can remove asthma triggers such as dust mites, pollen, and pet dander. Eliminating volatile organic compounds (VOCs) and other harmful particles can help reduce asthma symptoms. The Air Pro is FDA-cleared as a 510(k) Class II medical device and is an effective air purifier for people with asthma, but it's always important to consult with a healthcare professional for medical advice.

The Air Pro purifier operates at a noise level of 30-65 decibels, depending on the fan speed setting. At its lowest speed setting, the noise level is comparable to a whisper, and at its highest setting, it is similar to the sound of normal conversation. Molekule has manufactured this product with a quiet mode, in addition to its standard mode for the Auto Protect function, sleep mode, or quiet mode, that runs at a low noise level to avoid disturbing sleep, making it suitable for use in bedrooms and other quiet spaces up to 1,000 square feet.