Molekule - IAQ
Real-time indoor air management. Integrate with Building Management Systems to optimize fresh air throughout the school, office or entire facility. (Temperature, Relative Humidity, CO, CO2, VOC, PM-1, PM-2.5, PM-10 and Ozone.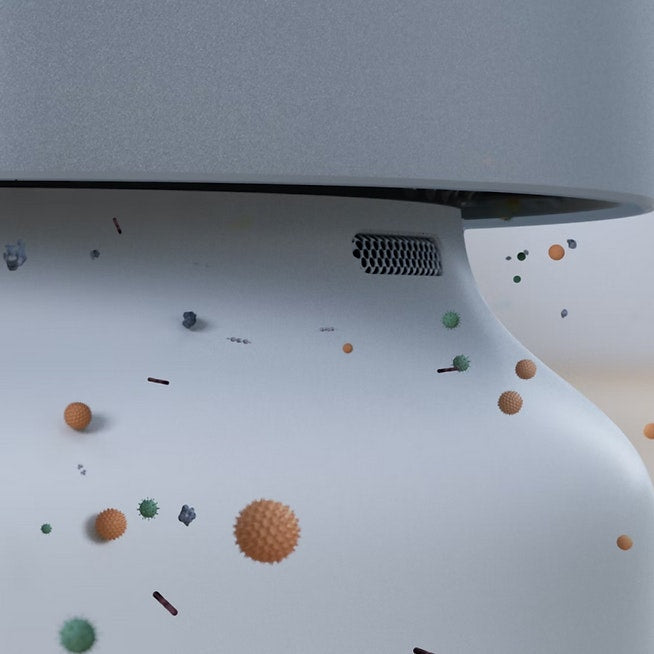 How did you adapt to COVID-19?
Throughout the COVID-19 pandemic, we strive to keep ourselves and our clients safe and healthy by following protection guidelines and providing information. With the world finally moving towards a new normal, we believe it is the perfect time to talk about indoor air quality solutions.
At Molekule-IAQ, it has always been our aim to provide you, your employees and loved ones with the healthiest indoor air quality possible. In order to achieve that, real-time data is essential, as we strive to be the one-stop solution to your IAQ needs.
Maintain a high quality of health.
Molekule-IAQ is driven by the latest in IoT technology, these technological advances are occurring at a record pace. Our passion for clean indoor air drives us to apply those advancements in order to improve the health of our clients. We firmly believe that new IAQ technology is the path towards a healthier future, giving organizations the tools needed to remain happy, healthy, and successful in your own home/workplace. Studies have shown that the healthier the air you breathe, the more productive you feel. Thanks to our years of industry experience and knowledge of indoor environments, we can give you the insight you need to significantly increase the health of your employees.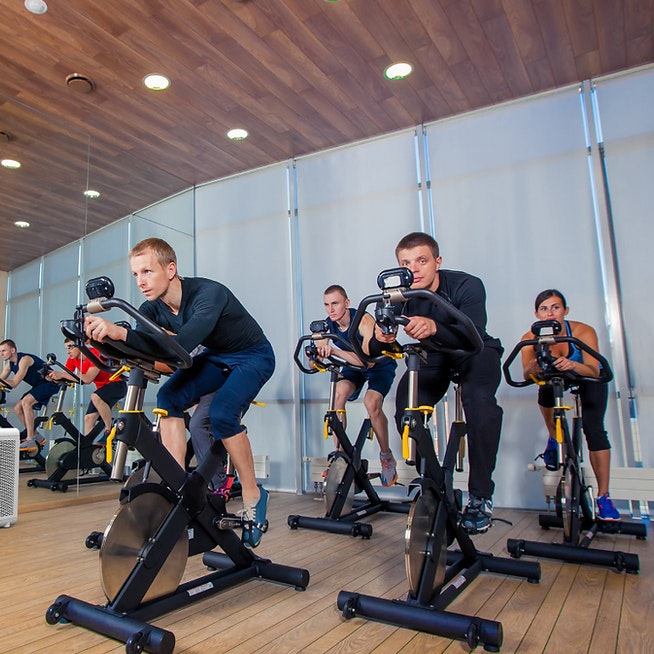 Molekule IAQ and Molekule purifiers
The combination of knowledge from Molekule IAQ software and command and control equipped Mobile Air Purifier expertise has created a cutting-edge solution for schools and offices.

Web Applications
Users can interact with real-time data thanks to Molekule IAQ's latest web application, as well as past statistics, alerts, analysis, and a wide array of other features.
Data Reports
Data is reported in real-time every five minutes throughout the day, followed by every hour in the evening and throughout the night.

Holistic Insights
These insights are helpful for schools, workplaces, and the authorities. Authorities are able to gain insight into the health situations at the schools under their watch, while schools and offices can monitor the health of their students and employees. The system gives the user the option to make corrective actions (including Mobile Air Purifier remediation), as well as realtime alerts that allow management to address issues … . IAQ can then be improved by automated integration with HVAC Building Management System and our local and enterprise based mobile app and dashboard solutions.

Rapid Response
Real-time data allows users to monitor and make fast decisions throughout the day.

- School staff – The Temperature and Relative Humidity, CO, CO2, VOC, PM-1, PM-2.5, PM-10 and Ozone readings allow facilities management and individuals to make gradual or fast changes room-by-room depending on the flow of air. They can even choose to air out a room while it is not in use.

- Educational facilities – Analysis can allow for fast, correction actions when targets are not met.

- School boards and service centers – Can identify trends utilizing the detailed analytics provided, and come up with large-scale plans or targets for specific buildings.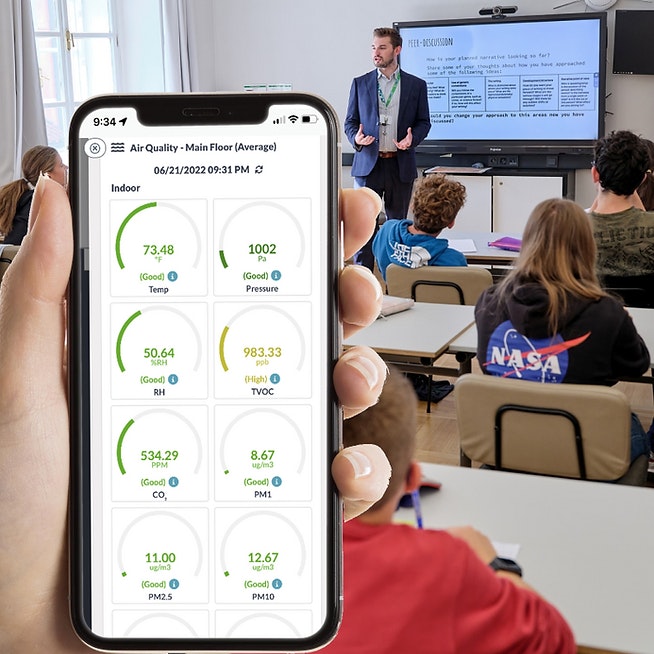 IAQ monitoring for students in classrooms
Following the COVID-19, flu, RSV and PM outbreaks, air quality and ventilation have been thrust into the foreground of modern life. Humans exhaling create the biggest source of increased CO2 in indoor spaces. Higher levels of CO2 and particulate matter can increase virus transmission rates within indoor spaces that have poor ventilation. Therefore, our IAQ real-time monitoring capabilities are designed to alert our clients when levels are high and ventilation/air quality is poor. 
The same problem also faces schools with various age levels around the world, as they look to create a safer and more productive classrooms for their students and teachers. We are confident that our products address these issues at all levels. 
Kindergarten
Kindergarten students are usually more active in the daytime, and spent most of the time on or around floor level. Younger children are also unlikely to fully understand the safety issues that come with COVID-19 and poor air quality, as well as hand washing and distancing. Fortunately, teachers can increase the rate of ventilation in order to combat these issues.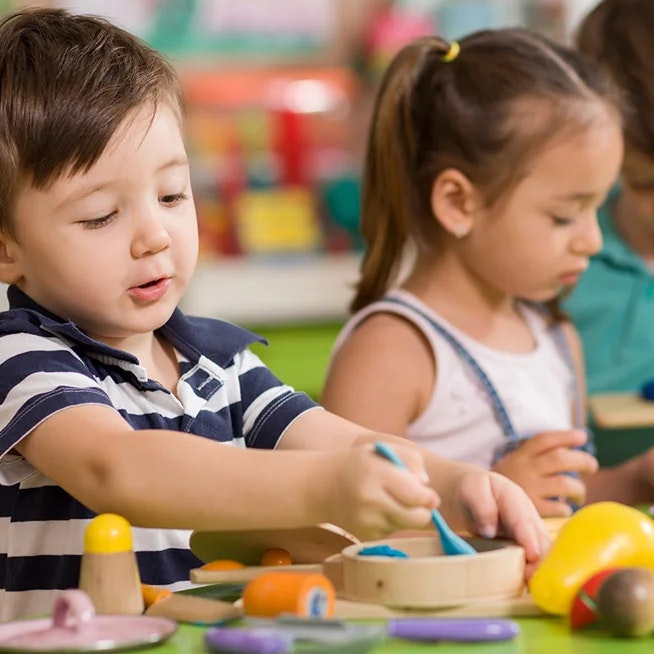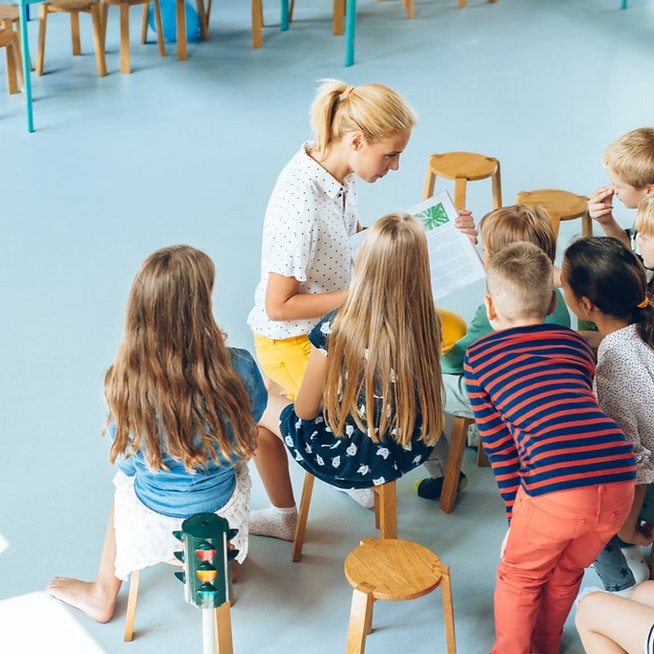 Primary school
Primary school children require a constant supply of fresh air in order to maintain their concentration levels. Controlled ventilation allows the teachers to create a positive, productive, and safe space within the classroom.
College
High concentrations of CO2 are the number one sign of stale air, which we are looking to combat with our IAQ solutions. It is important for college students to maintain a high level of concentration and productivity for their work, and the indoor air quality monitoring solution is designed to monitor air quality and allow colleges to improve ventilation to prevent the spread of illness.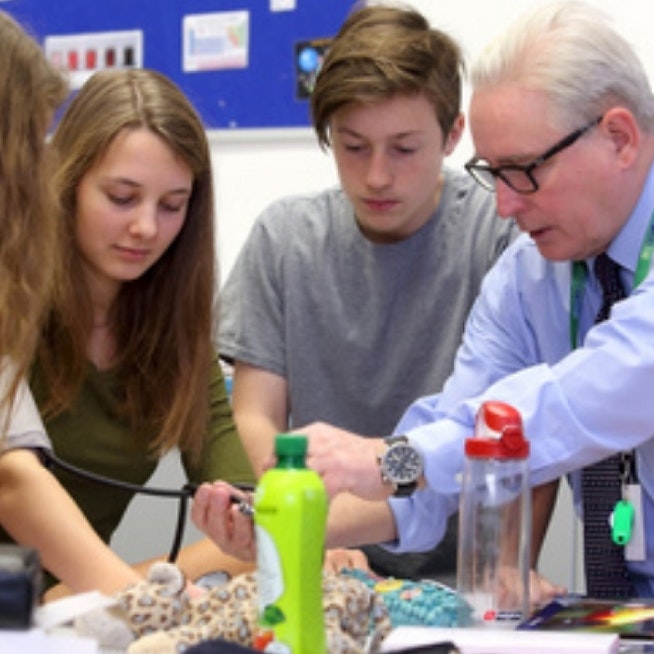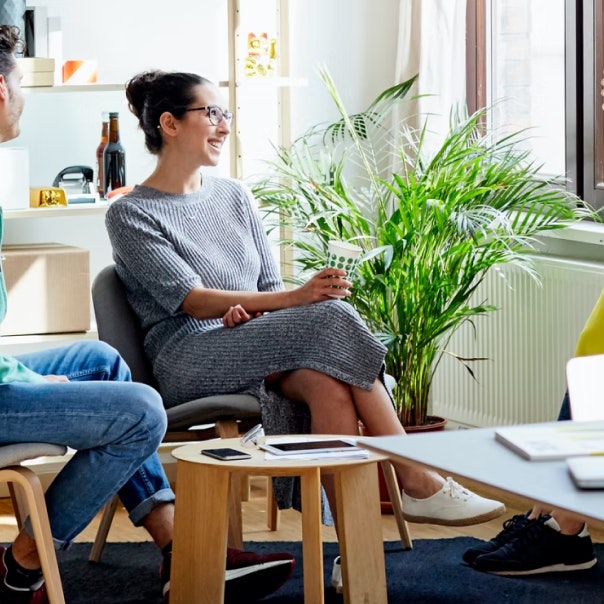 Office space
The air in meeting rooms and office spaces is supplied by HVAC systems, filtration systems, and more. However, for some reason, offices have been ignored over the years when it comes to air quality. It is important to monitor Indoor Air Quality and make fast decisions based on health and productivity needs in the workplace. 
Fortunately, the Molekule - IAQ Smart Office Environmental Monitoring Solution provides you with all the analysis and information you need to make corrective decisions in real-time utilizing localized and enterprise Mobile Air Purification solutions.  All you have to do is check on the readings via the Molekule IoT Cloud and keep a lookout for the blue bubbles with sensor symbols on them, or automate remediation Mobile Air Purifiers via the Molekule Dashboard or integrated Building Management Systems if they flash red.  In either case,  you will know in real-time that there is a decision to be made
Contact us at enterprise@molekule.com for more information or to set up a trial. 
Follow Along + Subscribe
Be the first to hear about exclusive offers and latest updates!