Molekule destroys the widest range of pollutants compared to conventional purifiers.
There's more in your air than you think. Allergens, chemicals, bacteria, mold, and other airborne offenders are waiting to make you sniffle, sneeze or worse.
Air Pro destroys any organic pollutant that enters the air intake. Revolutionary, patented PECO technology breaks down organic matter at a molecular level, inactivating harmful pathogens and turning VOCs, viruses, bacteria, mold spores and more into harmless gases like carbon dioxide and water vapor. Air Pro destroys allergens (dust mites, airborne mold spores, pet and cockroach dander, pollen), volatile organic compounds (formaldehyde, benzene), bacteria, viruses (H1N1, SARS-CoV-2)*, particulate matter and toxic gases found in smoke, and so much more.



*No air purifier can prevent transmission of a virus. Molekule recommends use of PPE and following directions of the CDC and other government authorities.

Yes, Molekule Air Pro comes with our PECO + HEPA TriPower filters. Smoke particles are trapped with HEPA efficiency, toxic gasses are quickly removed with activated carbon, and PECO provides another layer of protection by destroying the organic substances that are common in wildfire smoke. When set to Auto-Protect mode, Air Pro will automatically increase power when pollution levels rise, even when you're asleep. Air Pro can detect 3 sizes of particles so you can know in real-time how wildfire smoke is impacting your indoor air quality.

The Air Pro can remove common airborne allergens such as pollen, dust mites, pet dander, and mold spores from the air to help with allergies. It uses a combination of PECO and HEPA filtration technology to capture and destroy these particles at a molecular level, providing relief from allergy symptoms. In fact, PECO technology has been independently tested and shown to capture 95% of airborne allergens, making it an effective solution for allergy sufferers.

Those who suffer from asthma are even more susceptible to compromised air quality. Both the Molekule Air Pro and Air Mini+ with PECO-HEPA Tri-Power filter are excellent options for sensitive groups. The Tri-Power filter can help remove asthma triggers in the air by first capturing pollutants and irritants with HEPA filtration, then PECO technology breaks them down further into harmless carbon dioxide and water. Air Pro and Air Mini+ use sensors to detect pollution in the air and adjust fan speed to combat pollutants like pet dander, wildfire smoke, and more.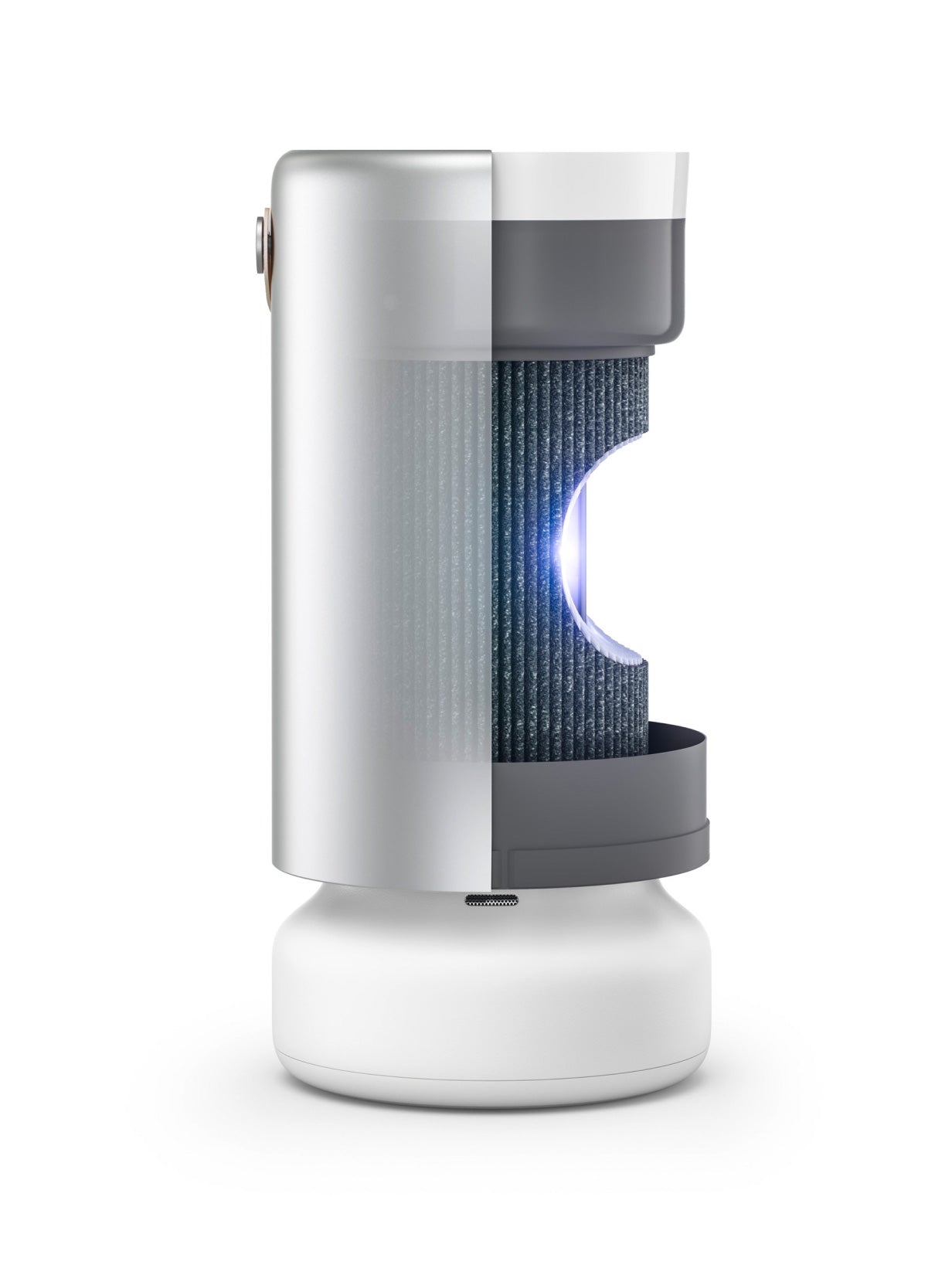 PECO destroys what HEPA leaves behind.
Not one, but three layers of protection. True HEPA captures 99.97% of small particles while light-activated PECO technology destroys organic pollutants and a layer of carbon removes odors and gases.
"I can definitely tell a difference in my air in my home. I'm loving the product."
–William T.
An operating system for your air quality.
Keep an eye on your air quality with daily and weekly air history stats. Track changes to particle levels in five-minute increments or going back as far as the previous four weeks.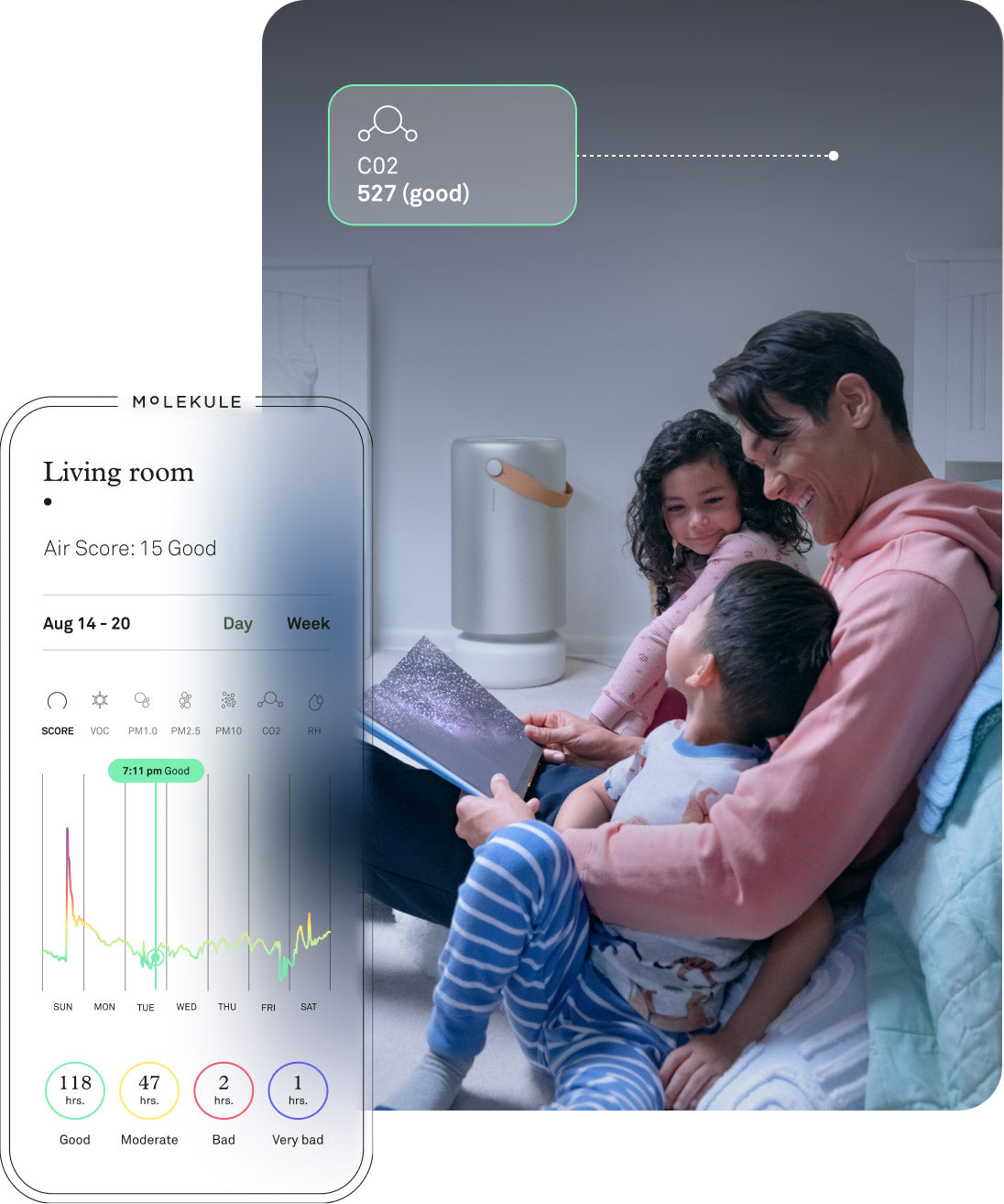 Automatic Protection
Auto Protect mode enables Air Pro to automatically adjust fan speeds when it senses spikes in particle and chemical levels. Quiet mode does it silently. Just sit back and let Air Pro take care of the air for you.
What else do you want to know?
The Molekule Air Pro and Air Mini+ differ in their room coverage and overall size. The much larger Air Pro has a higher air flow rate and is designed to improve indoor air quality in larger rooms up to 1000 square feet. Meanwhile, the Air Mini+ is made for smaller rooms up to 250 square feet. Both products also have differences in mobility. The Air Pro has a built-in handle and caster wheels for easy maneuvering, while the Air Mini+ is more compact and portable for travel or use in smaller spaces. Choosing the right air purifier starts with identifying your needs and preferences.

The Air Pro purifier operates at a noise level of 30-65 decibels, depending on the fan speed setting. At its lowest speed setting, the noise level is comparable to a whisper, and at its highest setting, it is similar to the sound of normal conversation. Molekule has manufactured this product with a quiet mode, in addition to its standard mode for the Auto Protect function, sleep mode, or quiet mode, that runs at a low noise level to avoid disturbing sleep, making it suitable for use in bedrooms and other quiet spaces up to 1000 square feet.

Pet dander, or skin flakes, from cats, dogs, and other co-habitants can trigger minor to severe allergies or asthma. Running Air Pro in your home helps to remove the tiniest free-floating bits with HEPA efficiency, and then neutralizes them with PECO for even more protection. Air Pro can also measure CO2 to let you know if pet dander or other contaminants could be accumulating due to poor ventilation.

We recommend replacing the filter every 6 months. However, this life could be shortened by working to clean particularly dirty air like that from a commercial kitchen or during a wildfire emergency.
Air Pro tech specs
Room size coverage
Up to 1000 sq ft (92.9 m²) with avg. 8-ft. ceilings
Detection
Particulate matter (PM1, PM2.5, PM10) down to 0.3 µm, VOCs, CO2, relative humidity
Automated modes
Auto Protect: Standard & Quiet
Filters
PECO-HEPA Tri-Power filter
Power consumption
Lowest speed — 26 W/h | Highest speed — 123 W/h (3-prong power plug)
Sound levels
Lowest speed — 33 dBa Highest speed — 64 dBa
Size
23.1 in. (58.6 cm) high
10.9 in. (27.8 cm) wide
FDA clearance
510(k) Class II: Cleared for medical use to destroy bacteria, viruses & mold, and collect particles
Total 5 star reviews: 147
Total 4 star reviews: 26
Total 3 star reviews: 8
Total 2 star reviews: 6
Total 1 star reviews: 20
84%
would recommend these products
Customer-uploaded media carousel. Press left and right arrows to navigate. Press space or enter to open more details.
Slide 1 selected
Reviewing

Refurbished Air Pro with PECO-HEPA Tri-Power filter

Air Quality Concerns

Wildfire Smoke,

Dust,

Mold,

Pets

Great quality and customer service.

I love the design and function. These are great looking, and have lots of features. I like how it constantly monitors and adjusts speed for air quality. Also, their customer service is the best. And the Refurbished unit looks like new! Highly recommend!

Reviewing

Air Pro with PECO-HEPA Tri-Power filter

Air Quality Concerns

Dust,

Viruses,

Mold,

Allergies

Love it!

By far one of the best impulse buys I had 😆 Well I actually had been wanting one for the longest, especially during the Covid lockdown, but I decided to finally purchase one and it's been a little over a year since I've had it and it's been great. I live in a studio apartment and there isn't much air circulation so my apt always felt humid and muggy. The first 24hrs of running & it was an instant change in air. It actually was less humid and the air felt cleaner. Yes, it's a more pricier purchase but 100% with it. And while it was larger than I anticipated, at least for the space I have now, I find that it doesn't really get in the way of anything and blends in pretty nicely.

Reviewing

Air Pro with PECO-HEPA Tri-Power filter

Air Quality Concerns

Allergies,

Mold,

Pets

I'm a believer!

Definitely feel like I have better air quality in the house. Very happy with the Molekule.

AG

Reviewing

Air Pro with PECO-HEPA Tri-Power filter

Energized Air!!

The Air Pro is a desk reference air purifier in every aspect. I tried to go a few months without it after my filters expired and noticed an immediate difference in air quality. When pro is running the air light and energized without ghost scents of the home or trash lingering around. The air score is a nice touch in the app so you always know how pure the air quality is in the home. As an allergy suffer year around this is a MUST-HAVE for improving the overall quality of life and HEALTH!!

Reviewing

Air Pro with PECO-HEPA Tri-Power filter

Nice!

Filter looks better than others, is quiet and works well.
Reviews Loaded
Reviews Added
PECO meets all applicable criteria outlined by FDA guidelines for air purifiers that may help reduce risk of exposure to SARS-CoV-2.
FDA clearance: 510(k) Class II medical device (#K211194)
Indications for Use
The Molekule Air Pro air purifier is a device intended for medical purposes that is used to capture 95% of particulate matter and destroy bacteria, mold, and viruses by exposure to ultraviolet radiation when operated in Auto Mode Standard or manual mode at fan speed 2 or higher.
The Molekule Air Pro air purifier has been demonstrated to entrain and destroy the following bioaerosols under the following exposure/working conditions: